Dancers With Woofs Members

Gigi Jones
-
President/Treasurer
-
angeluvu@ameritech.net
Mary Ann Coutley
-
Vice President
Elaine Rahn
-
Secretary/Membership Chair
-
pawsandhooves@tds.net
Diane Jones
-
Demos/Public Relations
-
angeluvu@ameritech.net
Bobby Wasielewski
-
Photography & Video Chairperson
Keith Rahn
-
Ring Layout and Design
Kristin Bink
-
Member
Rick Coutley
-
Member
Candi Evans
-
Member
Cathe Kemp
-
Member
Chris Matthews
-
Member
Diana Matthews
-
Member
Patti Muraczewski
-
Honorary Member
Jan Nyland
-
Member
Nancy Schaff
-
Member
Debbie Smith
-
Member
Bernadette Stahlkopf
-
Member
Jill Wanie
-
Member

Dancers with Woofs Biographies

GIGI JONES
BANDITT (All American) & MELODEE (All American)
Banditt is a rescue dog. At 8 weeks, this abused German Shepherd/Labrador Mix puppy was thrown out of a car window left to die. This happened right in front of our house and we rescued him. When he was a year old he was attacked by a dog and left him thinking he was doing be attached by all dogs and his owners turned his life around by freestyle. He had a hard start in life but that was not going to stop his owner Gigi to make his new life better. Banditt was introduced to a family whose hearts he stole. His mentor was the family dog Luckey. She took him under her paws and taught what love can do. At For Pet's Sake, it was learned that a trick class was offered and everyone told us to take him there. He is smart and loves to work. After completing this course, Banditt was advised about a new sport. He was a good candidate for Freestyle or Dancing with your Dog. Mutts are welcomed in this sport but in other venues only pedigrees are allowed. With Gigi's two left feet and Banditt's determination this team was on their way to bring smiles to the young and old. In May of 2004, out of 8,000 entries, Banditt was chosen to be on the Mutt America Pageant with Regis and Kelly. He became Milwaukee's Mutt. Flown to New York, stayed at a 5 star hotel, limo rides, and was given the celebrity treatment, Banditt became fourth runner-up but still remains first place in many people's hearts. Banditt went on to win a title in Musical Freestyle, Heelwork to Music, Handi-Dandi Musical Freestyle and also has achieved his Bronze Bars in Heelwork to Music and Musical Freestyle and has an official title of "Dancing Dog". Banditt and Samantha achieved their pair's title in March of 2009. In 2007, he became part of a trio together with Wynona and Samantha. They won a gold metal and they were on their way to getting a title. Sadly two weeks later Wynona died.

MARY ANN COUTLEY
DIVA
(Dalmatian)
Mary Ann Coutley was the Freestyle Dance Instructor for 10 years at For Pet's Sake Dog Training School in Mukwonago, WI. She has been training dogs for over 35 years, showing her Dalmatians in the breed ring, obedience, agility, flyball and musical freestyle. Her Wynona has titled in Heelwork to Music and Freestyle. She had appeared on TV, channels 4, 6 and 12 and also in several newspaper articles and was well known in Wisconsin for her participation at State Fair, in parades and for doing many demo's throughout the years at nursing homes, schools, senior homes and hospitals. Wynona's last performance was at the Pet Expo in Schaumburg, Illinois the middle of March 2007 where she received a first place gold medal and a qualifying score for the team event at the age of 12 years. Unfortunately we lost her to cancer on April 1st, 2007. "TLC'S Dream Chaser - Wynona" is titled in the following: NA, NAJ, AG1, AG2, FD, CGC, TDI, W-FD-FS, W-FD HTM, W-FD MF and also had 11 points towards her Championship for Conformation. Now the New Kid on the block "Ricky" has to follow in her footsteps. Firesprites Traveling Man, "Ricky" was born September 9, 2006. Ricky made his debut at Midnight Magic in Mukwonago, WI when he was 3 months old. This was his first attempt at dancing. He did an intro performance of some freestyle dance moves at 4 months of age at an elementary school play of 101 Dalmatians in January 2007. He has participated in over 30 demonstrations in the past year and a half. With guidance from above from Wynona, he is surely following in her footsteps and we are dedicating everything we do as a team in memory of my special Wynona, a dog that knew how to do just about everything that I showed her and taught me how to have a lot of fun dancing with her. Ricky received his first leg in Musical Freestyle in the spring of 2009 at the Chicagoland Pet Expo.

ELAINE RAHN
HUNTER (All American) & BUDDY (All American)
Hunter is a White German Shepherd mix that was abandoned by his owner at the age of 3 1/2 years. He arrived in WI on an organized "White Paws German Shepherd Rescue" transport. We had agreed to be Hunter's foster family, so one cold, windy November day we anxiously awaited his arrival at a "Park and Ride" transport drop off point. The van finally arrived, and the driver lifted out a scared and trembling, adorable white dog. My heart melted, and I knew instantly that we would adopt him. From all appearances, Hunter's previous life had not been a happy one. He had telltale signs of both physical and mental abuse and was fearful of just about everything. However, little by little he started to trust again and gradually began to overcome his fears. In September of 2008 Hunter attended his first obedience class and did amazingly well. The next summer, coincidently, my husband was manning a Rescue booth in the same building as the "Dancers With Woofs" booth at the State Fair and saw the dogs perform. He came home and told me about the "fun" dancing performances he had witnessed. I was immediately interested, and that is what planted the seed for Hunter's journey to become a dancer. In March 2010 Hunter was enrolled in a Beginners Freestyle class at "For Pet's Sake". At first, the experience was somewhat frightening for him. He was still extremely shy and nervous around unfamiliar people. However, it didn't take long for him to get used to everyone being so nice to him, and soon there was no holding him back every Saturday morning when it came time to go to class. Currently, Hunter has mastered his first freestyle dance routine and, I am proud to say, has enthusiastically performed it (or a good portion of it) at three demos so far. We both look forward with anticipation to each new, unique, demo experience and strive to do our best performance possible in hopes of bringing a laugh or a smile to those watching. This is our main goal and what makes us happy. Sometime in the near future we may also consider trying our hand at competition, but for now we are just happy performing for the joy of it.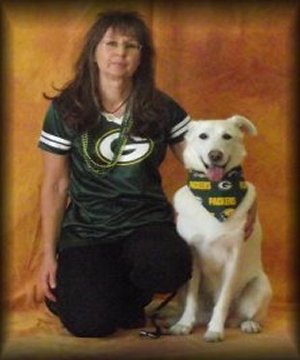 KRISTIN BINK
LUNA
(All American) & LEO (All American)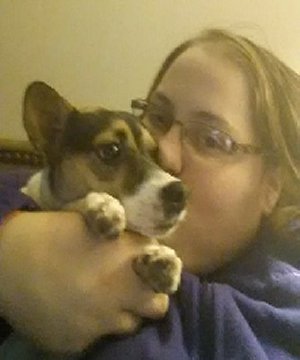 CANDI EVANS
LULU
(English Bulldog)

CATHE KEMP
BANNER (Australian Shepherd) & DIGGS (Australian Shepherd)
I am the proud owner of 2 wonderful aussies. My first one is Samantha; I got her as a puppy. She is your typical Aussie that is full of energy. With her I do agility, freestyle dancing and herding. My second Aussie Lucky I adopted from Second Time Around Aussie Rescue. With him I do agility and freestyle dancing. Between my 2 dogs I am titled in UKC, NADAC and CPE agility. Also with Samantha, we have our Beginner's Pair Musical Freestyle Title with WCFO.

DIANA MATTHEWS
KRINGLE
(All American)
Kringle is a Cairn Terrier mix with Southern roots (do you hear the twang in his bark?). My husband Chris and I adopted him as a puppy from Small Breed Rescue of East Tennessee when we lived in the Knoxville area. In his first eight days with us, Kringle learned eight moves and tricks! We quickly realized we'd have some serious learning to do to keep up with his keen terrier mind. As we got to know this impish little canine and his talent, we dreamed of creating routines that we could bring to nursing homes and senior centers and share his social personality with others. When we moved to Wisconsin and heard about Dancers with Woofs, we had to check it out! Today, we visit quite a variety of people and places through Freestyle. It's exciting to have a group in which to share our dream, and together find joy in developing the humancanine bond. Kringle and I have fun learning and growing, and delight in connecting to so many wonderful folks along the way.

PATTI MURACZEWSKI
KIRBY (Bichon Frise) & PAISLEY (Papillon)
Patti is certified by the Association of Pet Dog Trainers and Animal Behavior College. She has been instructing pet owners and their dogs for over 30 years. In addition, Patti has served as an executive director of a humane society for 15 years and has served as a board member for numerous animal welfare organizations. Patti is the founder and President of the Bichon and Little Buddies Rescue and writes a column in the national publication Front and Finish. Patti currently trains and competes with her own dogs in obedience, agility, flyball and freestyle. Her Bichon Frises have been nationally ranked in the top ten for Bichons in agility, obedience and flyball. Snafu, her oldest Bichon, is the most pointed Bichon in North America in the sport of flyball. For Pet's Sake training school uses reward based training to guide the dog and owner to a higher level of control, communication and enjoyment.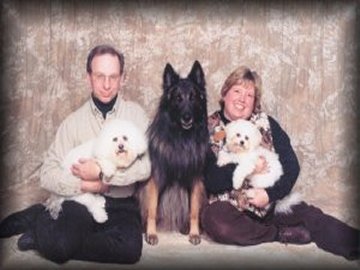 JAN NYLAND
TRISTAN (Golden Retreiver) & LOUIE (Golden Retreiver)
I've been training dogs for many years in obedience, and have also shown dogs in conformation. I took an agility class with one dog also. It's all fun. I got into the Dance Freestyle with my older dog Flip, who is retired from obedience. He was bored, it is something he can do without jumping, and I thought it would be fun for Flip. Guess what? We are BOTH having fun! I also decided to include my young dog Tristan in it, and he loves it. In the past, I have had many breeds of dogs, and put obedience titles on all of them: A Mixed Breed, 2 Kuvaszok, a Doberman Pinscher, and Golden Retriever.
Flip, (Otch Tanbark's Triple Flip UDX7), my older Golden, is 9 years. He has always been such a "Good" dog, never naughty. When he was a puppy, I used to tell him to be naughty once in a while. When he retired from obedience, I was fortunate to see Deb Lynch and her Corgi's doing Canine Freestyle, and I was hooked. I like to choose music for Flip that is dignified and pretty, it suits his temperament.
Tristan, my younger Golden, was named by my husband, at my request. He is named for the Wagner Opera Tristan and Isolde. Some days I think his name should be not Tristan, but Tarzan. I think he COULD swing from trees! I never have to tell Tris to be naughty! He is wild, flamboyant, but fun. And very sweet and affectionate. For Tris, I choose bouncy, happy, wild music.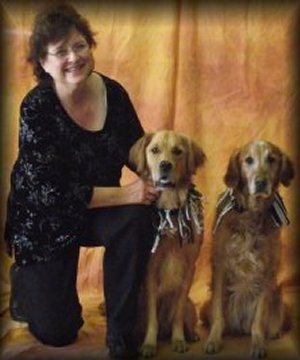 NANCY SCHAFF
CHARLIE
(Golden Retriever)
I knew as a very young girl that dogs were always going to be part of my life. I loved every one of them! We lived in an area where we did not have close neighbors, so my parents made sure that I had lots of pets to keep me company, and that must have started my love for dogs. I got started in Free Style Dance in 2005, with our special Golden named Dolly. She would be Charlie's great, great aunt and she was nine years old at the time. Together, we had so much fun learning 'the moves' that when it became Charlie's time, at the early age of three months, there was no doubt that he was going to be a dancer. It was the natural thing to do. Free Style allows you to bond with your dog in a very special way, and it's so much fun to teach him and watch him mature into this beautiful animal. At just 11 months, Charlie is so young and full of energy, that at times he is a real handful. Charlie is our fourth Golden and third puppy. It is my intention to have him become a therapy dog for the sick and elderly. Doing Free Style is the icing on the cake: watching the smiles on the peoples' faces when they see how handsome he is, and the cool dance moves he performs for their entertainment, makes it all worth it.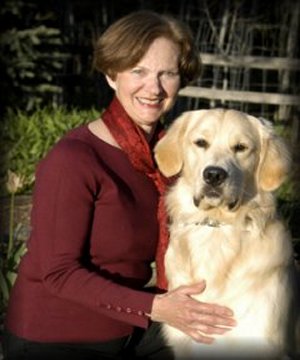 DEBBIE SMITH
BOGART
(Border Collie)

BERNADETTE STAHLKOPF
TULLIE (Weimaraner) & SIREN (Weimaraner)
Tullie is an eight year old weimaraner and my first freestyle dog. We started freestyle when Tullie was just a year old at For Pets Sake. Tullie is also my obedience and rally dog. We had to take a few years off of competing because she has had cancer three separate times - but she has beat it every time. She had to have a toe amputated on her front left paw a month ago - luckily, this bone lump was benign and she can dance just fine with three toes on that foot! Currently, I have five dogs in my pack: Two weimaraners - Tullie & Shay, two English setters - Redford & Soloman, and one vizsla, Horatio, or "H" as we call him. I have had weimaraners and vizslas for 19 years. I am a high school English teacher and have worked at Sheboygan Falls High School for the past 15 years. I also teach obedience, rally, and puppy classes at the Sheboygan Dog Training Club and have for the last seven years. Mark, my husband, and I have been married for 12 years and have no children but our five dogs, one male calico cat, and one potbellied pig. We are also very active with Furry Bottoms Rescue as we are a foster home for dogs and I do one on one training with the adoptable dogs. We flunked fostering 3 times out of 15 which is how Redford, Shay, and Soloman came to be with us.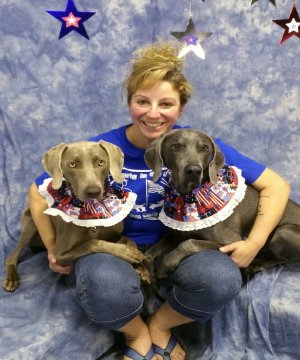 JILL WANIE
JAX (Border Collie), SPIRIT (Border Collie) & RUDY (Mini Aussie)
I've had dogs all my life and involved in dog activities for over 30 years. My parents owned a boarding kennel and we owned three Soft-Coated Wheaten Terriers - Maggie, Sadie & Rosie. I showed Maggie in the breed ring and she earned her championship before she was a year old (all owner handled). I also showed Sadie to her championship but it took a little longer. Rosie wasn't interested in showing. After I got married, my husband and I owned three wonderful Norwich Terriers - Corky, Ernie & Buster. I showed Corky to her breed championship (the other two wanted no part of it). My mom and I also bred a few litters along the way. After watching agility on TV, I thought it looked like so much fun I had to get a Border Collie. We adopted Jax from a rescue group when he was 4 months old. A few years later, we fostered Spirit for the same rescue group and ended up adopting her. I have trained & shown them in agility, obedience, & rally. And, we have been training in freestyle dance on and off for several years now. Jax has had some set backs because he had surgery on both his cruciate ligaments a few years ago and has some arthritis problems, but he's still my best dancer! Rudy is my little spit fire who is also a rescue dog. Rudy is a North American Shepherd (aka Mini Aussie) with a tail. He is working very hard at agility and freestyle dance. He loves lure coursing and received a herding instinct certification. Don't tell Jax, but Rudy is now my best dancer. We also have a crazy cat named Buttons. And, I owned (owned by, is more appropriate) a wonderful Appaloosa horse named Chief for 15 years that passed away in May of 2008. Currently, I am Vice President of a Border Collie rescue group (CARE4BCS, Inc.) and a member of Dancers With Woofs, Wisconsin Dog Rescue & AWARE, Inc. (Adoption Wellness Advocacy Rescue & Education).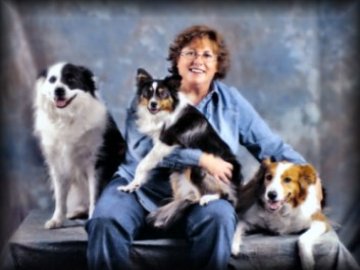 Dancers with Woofs Past Members

CHARLOTTE ALLMANN
CINDY LOU
(Petit Basset Griffon Vandeen)
Charlotte has been training dogs most of her life, and currently teaches agility classes, basic obedience and tracking, and is the president and training coordinator for Wisconsin Interstate Search and Recovery K9 Team, a volunteer, professionally trained unit that helps police and emergency services in the event of a missing person or suspected violent crime. Cindy Lou is a Petit Basset Griffon Vendeen (puh-tee' bah-say' grif-fohn von-day-ohn), a French scent hound. She is a working tracking dog for WISARK9 Team, who enjoys dancing as a way to cut loose and de-stress from the world of working canines, searching for missing people. Cindy Lou is a beginner, and is still learning the basic freestyle moves. She tries to fit her dancing into a very busy schedule of training for agility, obedience, tracking, and Search and Rescue for an emergency call-out when a person goes missing. Her handler, Charlotte Allmann, is not much of a dancer, but Cindy Lou is forgiving of her . . . for now. She enjoys performing and being the center of attention, and is always happy to be meeting new friends, human and canine.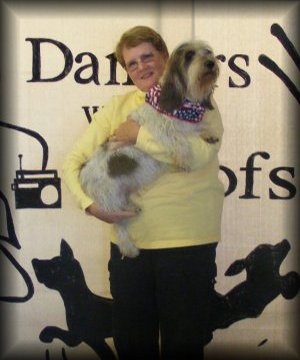 SHARON BATTERMAN
SAADIE (Border Collie) & CHARLIE (Border Collie)
At the time of my retirement from teaching middle school 6 years ago, a 13 year old American Water Spaniel shared the house with me, I was thinking of getting a second dog. A friend talked me into getting a border collie pup suggesting I needed to go "outside of my box". Saadie is now 6 and four years ago I welcomed another border collie, Charlie, now 5, into my home. In order to make an attempt to keep my active, intelligent pups busy, we've trained in obedience, rally, agility, and freestyle. My exposure to freestyle began 4 years when I attended the Dancers with Woofs Camp with friends. The enjoyment in freestyle has continued with additional camp weekends and practicing back in Sheboygan. I especially enjoy working closely with my dogs in freestyle and the bond that is formed. Presently I am a member of the Sheboygan (WI) Dog Training Club and an obedience instructor with the club.

NADINE BUKOVIC
MADDIE (Golden Retreiver) & SOPHIE (Golden Retreiver)
I have loved and shared my life with goldens since 1982. I grew up with a wonderful black labrador retriever and knew that someday I wanted a dog of my own. My mom and dad's neighbor had a golden and I was smitten – I knew it was the breed for me! I currently share my life with Maddie who is 7 years old and my newest fur girl Sophie who is 7 months old. I have done obedience training with Maddie and took a freestyle class with her when she was a little over a year old. I can't think of a dog sport that is more fun than freestyle. I have attended all of the Dancers with Woofs Freestyle Dance Camps except one (my old golden was having health issues) and look forward to spending a wonderful weekend with my dogs every year learning new things. Freestyle is a sport for dogs of all ages. I taught one of my goldens to 'dance' at the age of 10 – old dogs can always learn new tricks. I have just started working with Sophie on some freestyle moves – puppies love it too! I joined Dancer with Woofs last year and look forward to doing demos and entertaining people with my two lovely goldens!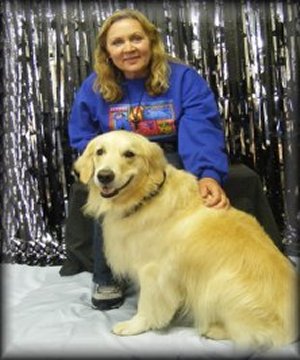 SHARON CERNEY
CARLEY
(Pembroke Welsh Corgi)
Carley (Busy B's Autumn Flurries NA AX OAP OAJ OJP) was born on October 9, 2001. Carley and I have been enjoying Freestyle for several years now! We've competed on a limited basis (with a leg towards our Musical Freestyle Team title – along with Gigi Jones & Banditt, and Cathe Kemp & Samantha). Mostly we like to participate in demos and help promote what the sport of canine freestyle is about. Carley is quite an athlete and enjoys competing in AKC agility events, which is where you'll usually find us on weekends! She currently has 8 AKC agility titles and is competing on the Excellent level for more titles. Sharon has instructed the Freestyle class as well as taught Beginner's Agility at For Pet's Sake Dog Training in Mukwonago, and she's held Freestyle workshops at the Dog Days of WI dog camp. She believes strongly in the benefits of freestyle – it provides your canine companion with fun and challenging activities that are very satisfying to your dog, but also create a very strong bond between dog and handler. And it's fun!

CHERYLE HOMUTH
HOLLY
(Border Collie)
Cheryle Homuth and her Border Collie, Holly, have been enjoying freestyle dance since 2002.  They have performed at many fairs, schools and retirement centers.  They have also performed at the Woodstock Opera House, WGN TV, the Wisconsin State Fair, and even on Mallory Square in Key West, Florida.  Holly loves to show off her "flashy" moves but will dance to any song that has a good beat.  She helps Cheryle teach freestyle dance classes at Northwest Obedience Club in Cary, Illinois and is a certified professional dog trainer. She is also finishing her Graduate Degree to become a Board Certified Animal Behavior Counselor.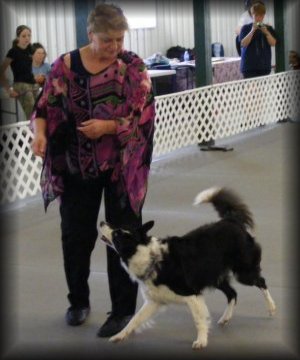 JEAN JAHNKE
K C
(Minature Australian Shepherd)

BABETTE KISS
LANES
(Border Collie Mix)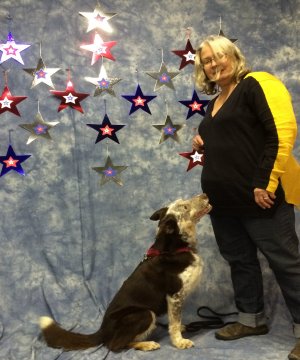 DEBBIE LYNCH
TINKERBELLE (Welsh Corgi) & COUP'R (Welsch Corgi)
I adopted Tinkerbelle in 2005 when she was 2 years old. Originally from Florida and she was transported to Wisconsin by the corgi rescue. After a year as a pet dog, she "informed" me that she wanted to become a performance dog. Our first performance sport was agility. Next thing I know, she earned her champion title in Teacup Agility. She was the first dog in Wisconsin to get an Agility Championship in TDAA. But she wasn't satisfied with just agility, and in 2007 we attended Dancer's with Woofs' canine freestyle dance camp. We had a blast learning the basics of freestyle dancing. Poor Tinkerbelle, I must admit to occasionally stepping on her feet, but she took to it like a pro. We are just starting to compete, but whether we win or lose, we have fun. In addition to these accomplishments she has also learned to do tricks. We have competed in several trick contests and I discovered that she performs even better in front of an audience than during our practices. What a great little partner she has been. And I love her enthusiasm and joy. When we are practicing or performing, her little stumpy tail goes like a fan.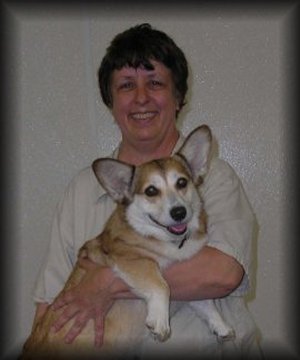 MARGARET MAJORS
JOSIE (Nova Scotia Duck Tolling Retriever) & GABBY (Lab Retriever)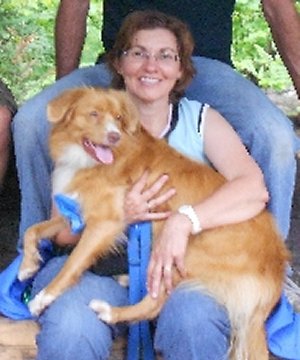 MARY MICALE
COOPER
(Miniature Poodle)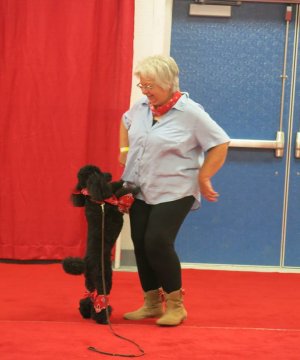 SUE SAWICKI
GRACIE
(Papillon)
Sue Sawicki and her Papillon, Gracie, have been enjoying canine freestyle for about four years. Gracie studied dance at For Pet's Sake Dog Training School located in Mukwonago, WI with canine freestyle instructor, Mary Ann Coutley. Gracie has received her AKC Canine Good Citizen (CGC) Title. And has won first place at two performances at the Midnight Magic competition held at For Pet's Sake Dog Training School. Sue chose canine freestyle not only for the pure joy of working and bonding with Gracie, but it also fulfills her love of dance. Another wonderful benefit is seeing the many smiles on the audience's faces while they're watching Gracie perform. And it shows them that small breed dogs can do canine freestyle just like the "Big Guys." Sue and Gracie have performed at nursing homes, senior living residences, pet expos, and other evens. At this point Sue and Gracie perform for the pure enjoyment but competition maybe in their future.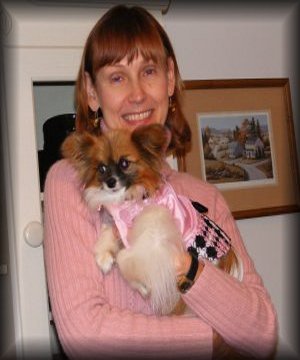 MARY SCIURBA
BINGO (Border Collie) & FOSTER (Rough Collie)
Foster and I have been members of Dancers with Woofs since 2007. Our first public demonstration was at the 2008 Wisconsin State Fair World of Dogs. At that point, Foster had only five freestyle lessons. Although we knew our routine and he could do all the moves, he was overcome with stage freight and froze! Now, with more exposure, confidence, and training, we look forward to more performances in the future! Foster and I have been a team since March of 2008. I started canine freestyle dance in 2007 with my beloved Border Collie, Bingo. We attended the first Dancers with Woofs camp that fall. Unfortunately, Bingo attended as a "tripawd". His front left leg had been amputated in spring of 2007 due to cancer. Sadly, in March of 2008, Bingo lost his fight and I lost my canine soul mate, my dancing border collie, my best canine friend. They say when one door closes, another opens. Although I miss Bingo every day, Foster is helping to fill that void and is opening another door. My husband and I drove to Ada, Michigan and adopted the biggest 4-year old Rough Collie I had ever seen. My "gentle giant" is a sweet boy! Foster attended the second Dancers with Woofs Dance Camp in September of 2008. In October, he earned his AKC Canine Good Citizen title, and in June 2009 he passed his Delta Society Pet Partners Team Training. In such a short amount of time, he has accomplished much. He has made me very proud and we look forward to many more accomplishments in the future!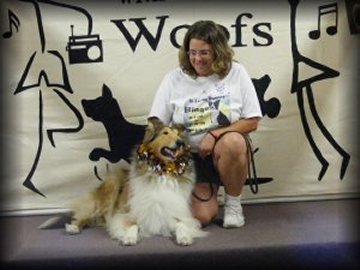 AMY STERN
XENA
(German Shepherd)
My name is Amy and I have 3 black German Shepherd dogs Xena 9, Thor 3 and Jetta 3. I started training my first dog Xena (for the warrior princess) in the year of 2001 and have falling in love with the art of Obedience. And along with that I have found that the Obedience is a fantastic tool for Freestyle dance. You can incorporate all the Rally signs and all the Obedience drills into a freestyle dance that you and your dog enjoy and can succeed at. All you need to add is a dash of choreography and a pinch of pizazz. Xena currently has her Musical Freestyle Beginners Title, Rally Advanced Excellent and her CDX. She also has her CGC and TDI Certifications. If I don't see you out on the dance floor then I will see you in the show ring.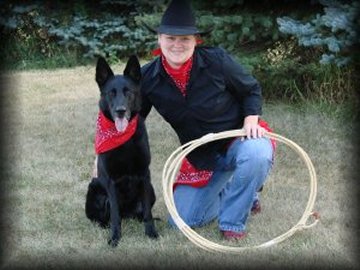 KATHY STOCKS
WATSON
(All American)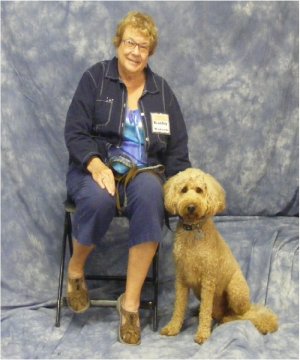 SANDEE STUCZYNSKI
TAJA (Border Collie), MR. ROPER (Mini Aussie) & STORMY (Aussie)
Sandee Stuczynski is retired obedience instructor at For Pets Sake Dog Training in Mukwonago and has been for 10 years. She has over 20 years of dog training and instruction under her belt! Sandee has 4 dogs Taja (10) she is a black and white border collie CGC, TDI, HIC and her Fly ball Onyx. You might have seen her Grandson out performing with her at State Fair. Storm (8) is a red merle male border collie and he has his CGC, TDI, HIC, CD, RE and Fly ball FBDCH, FD40K. Mr Roper (5) is a red merle Mini Aussie with which she is currently dancing with. He has his CGC, TDI, HIC, Fly ball FM and many different Agility titles. Last, but not least is Ace her year old black and white border collie. He has his CGC and Fly ball FDCHS. Sandee has had Three German Shepherds in the past who she has placed Keena with a UDX within 15 shows, Lakota UD and Charu CDX. She brings with her many years of experience in the show ring and many more with her talent with training dogs. She will be the next up and coming dance team to keep your eyes on!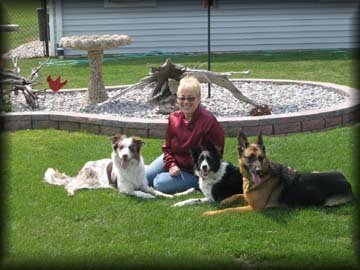 LINDA WARN
TROTTER (Cairn Terrier) & STIRLING (Scottie)